Carbona Not Glue playing the Parlour, due to noise restrictions this will be an early gig, approx 8:00 pm
Playing back at the Parlour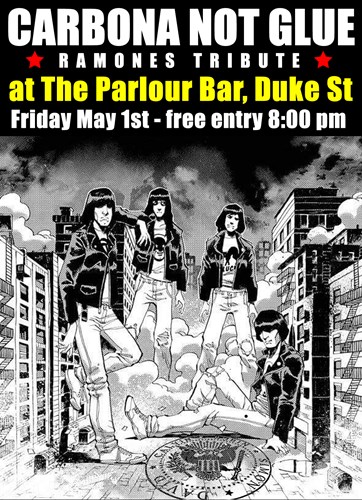 Gig Report
This was a great comeback gig at the parlour. Trying a new twist to our set by keeping all the favs to end appeared to have worked. This gig was recorded using a Zoom R16 for a good quality recording using 7 mics. It was also recorded by video HD by Sadie Woods.  
There was a good on stage sound and out front, although someone did say it could have been louder but it was a pub gig -so we have to mix with the un mic'd drums. A wee mishap with a spring breaking on snare after the KKK but with a bit of gaffa tape we got through the set. Simon used his new 350 watt Ampeg, sounded great, Robin used the Bugera 22 with extension speakers.
Lots of folks dancing at the end and a genuine encore. It was a great night.
Here is the Set List  :
Beat on the Brat

Glad to See You go

Gimme

Kill That Girl

KKK

 

Listen to My Heart

Rockaway Beach

Teenage Lobotomy

Here Today Gone Tom

Surfin Bird

Too Tough  to  D i e

C h a i n s a w

I W a n n a   L i v e

Spiderman

California Sun

We're a Happy Family

Cretin Hop

Blitzkreig Bop

Sheena

Sedated




What a Wonderful World

R.A.M.O.N.E.S.